As a result of the many requests we have received to add Nextcloud to the available applications, we have finally given priority to this tool that you can now install with a click on MaadiX.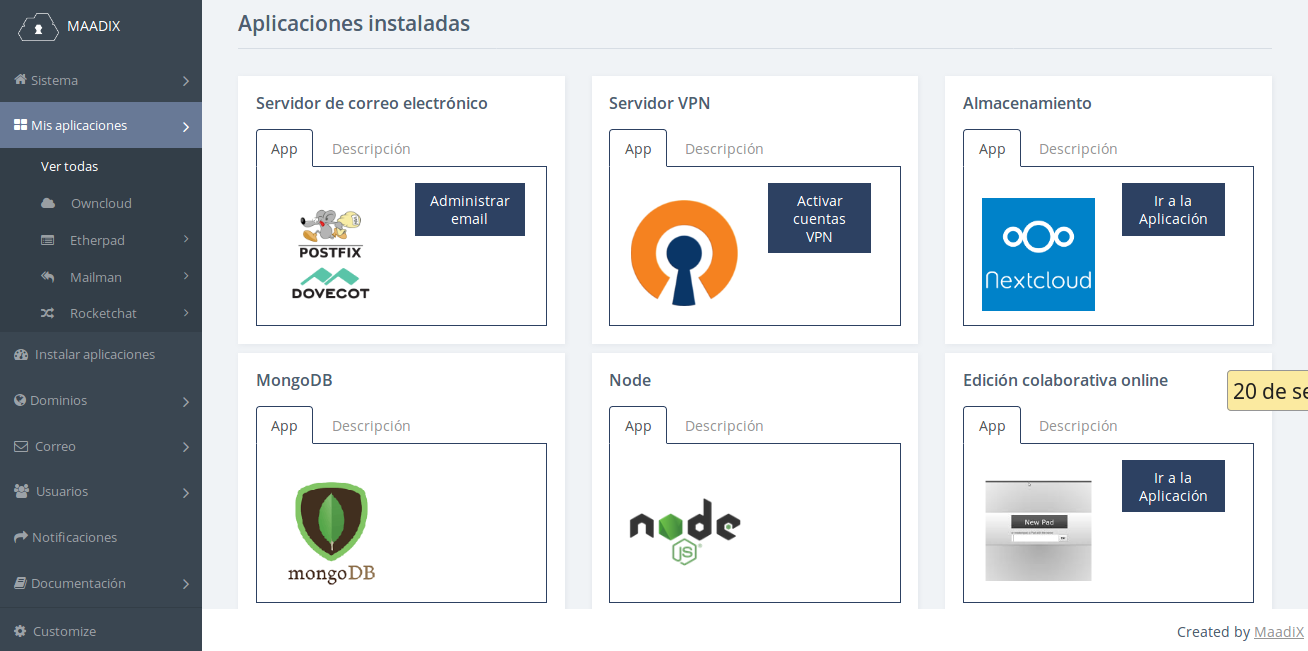 The latest available version (13.0) will be installed from which you can activate the extensions you need. As with Owncloud, you will have many useful plugins that you can activate according to your needs, which will allow you to keep all the information you need in one place: contacts, calendars, tasks, feeds, web mail client, to name a few, besides being able to store and share documents.
The new conference application, Nextcloud Talk, deserves particular attention. In addition to excellent video quality (one of the best we've tested), it allows you not only to create private conferences, but also to generate a link that can be shared with anyone, even if they don't have an account in our Nextcloud installation.  You also have the option of desktop sharing and a mobile app to make video calls from anywhere.
Here you can check all the applications available for Nextcloud:
Our next step will be to add the automated installation of OnlyOffice Document Server, so that our cloud includes the ability to collaboratively edit rich text documents, spreadsheets and presentations. Both, Owncloud and Nextcloud, can connect to Only Office so that the documents we upload can be edited directly in real time.
Applications for synchronizing other devices with Nextcloud:
NOTE for migration - After several assessments, we have decided not to automate the migration from Owncloud to Nextcloud, due, among other reasons, to the different configurations that each person may have made in their installation and that it would be impossible to forecast globally. Everyone can move the data manually, uploading the files back to Nextcloud and playing the same settings, in case they'd like to use this tool instead of Owncloud. If someone needs to be able to make this migration without repeating the steps manually, it will be necessary to carry out several tasks first: changing some parameters in the configuration files, changing permissions, changing the location of the data folder, updating the database according to the new location, informing the system of the changes in the LDAP directory). These are tasks that require an advanced level of knowledge and must take into account not only the ordinary instructions provided by Nextcloud, but also the server's own configuration (vhost, Apache, folder structure, LDAP). For this reason, whenever possible, we advise you to avoid automated migration provided by Nextcloud and manually move the data. If this option is not the desired one, we can offer a migration service carried out by our technicians.